Unlock More Abundance
in three hours or 100 pages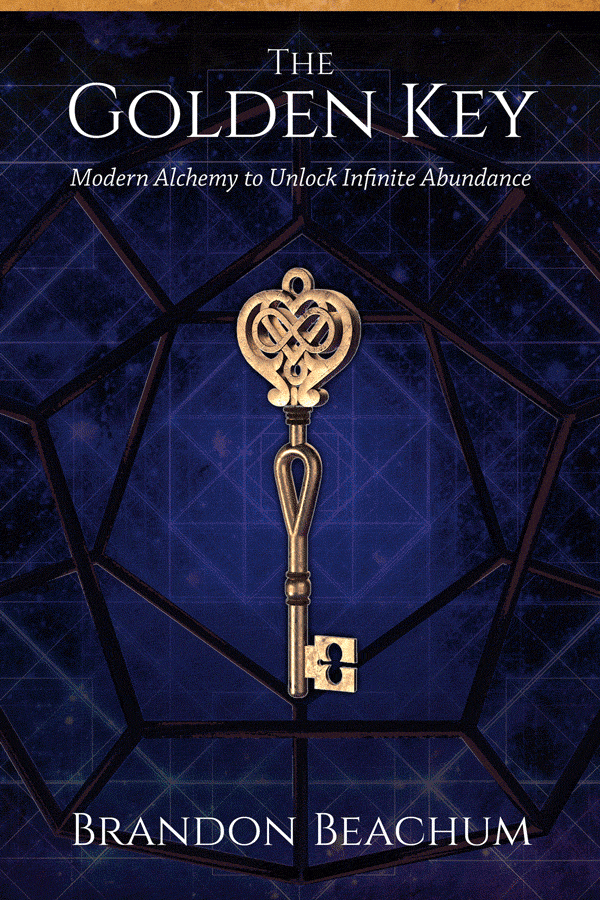 What Form of Abundance Would You Most Like to Unlock?
Congratulations! If you are reading this, you are ready to unlock the infinite abundance that is your birthright—and I will help you do so by imparting the 8 keys to abundance that I've uncovered over 25 years of deep exploration. You will begin by downloading The Golden Key which is being freely gifted to you as you set off on your path as a key maker—someone who is curiously exploring and learning the 8 keys within the book—ultimately to become a key master—a modern alchemist that proactively unlocks and manifests abundance in all its many forms in your life by playing the Golden Game, and sharing the keys with others.
Please know I'm not asking you to take my word on anything you read in the book; all I ask is that you keep an open mind and heart, and for your willingness to apply the perspectives in the book via the Golden Game so that you can see the results for yourself. Then, be sure to come back here to share your exciting results, and see the inspiring results of others.
Stay Gold,

Download the book with the (Golden) Key Code that was gifted to you…
Get your own (Golden) Key Code at checkout to share with others…
Play the Golden Game, and we will all share in the abundance that flows! 
Maharishi, the father of Transcendental Meditation, predicted it would only take one percent of the population expanding their consciousness by incorporating mindfulness to greatly impact the rest of the population. Author Malcolm Gladwell also suggested in his book The Tipping Point that when an unshakeable belief is held by ten percent of the population, this would be the critical mass necessary for an idea to "spread like wildfire" and shift the collective. I wholeheartedly believe that if a critical mass of humans can innerstand and integrate these 8 keys to abundance, which includes the Golden Key, the master key that ultimately links them all together, we can quickly tip the scales of fate in favor of us stepping into a timeline where Earth blossoms into the overly abundant planet of paradise she is destined to become.
Why Sharing 50% of the Wealth?
Because I am selfish—the good kind of selfish, that is! Since we are all extensions of the one source consciousness (i.e. all is one), I know if I generously share the monetary abundance with you that's created from the offerings on this website, then even more abundance will naturally flow back to me. Which is why I like to say, we get what we give, and then some!
So this website is designed as a playful and inclusive way for me to practice what I preach and for us to collectively "share the keys to abundance" in several ways. First, readers will receive the book as a free gift by using someone else's (Golden) Key Code–Second, they will have an opportunity to create their own (Golden) Key Code so that they may gift the book to others who they believe will benefit from it as well– Third, everyone is invited to play the abundance manifestation game (The Golden Game), and I'm going to be sharing 50% of the monetary currency that flows into the game with all the players (or charity if preferred), as well as from the sales of our other Golden Goodies on this site!
Get the audio or e-book with the (Golden) Key Code that was gifted to you, and get your own Code to share with others at checkout!
"This book is the simplest, most readable compilation of wisdom on living life I have ever read. I highly recommend it to all seekers."
—frankekk review, Amazon Books, 3/6/2021
Brandon Beachum has been a serial entrepreneur since childhood, and in 2011 while living on a friend's couch he co-founded what is present-day ResortShare. In 2015, ResortShare was named the 569th fastest-growing private company in America in the annual Inc. 5000 fastest-growing companies list. Later that same year, Brandon began focusing on his greatest passion, exploring consciousness and the "ultimate nature of reality" on The Positive Head Podcast. Positive Head was quickly met with critical acclaim and has consistently rated in the Top Five in the "Spirituality" category on iTunes/Apple Podcasts for several years and has amassed over fifteen million downloads. Brandon is now also stewarding Positive Head's epic evolution on the new, late-night style, consciousness-elevating variety show, Optimystic. He achieved all of this through application of the empowering perspectives he shares in the pages of The Golden Key.
Care to play a game… with the youniverse?
Now is the time to unlock the abundance that is your birthright! Tap into the ONEderFULL vibration of celebration, because abundance is not only your natural state, but also the birthright you are being beckoned to re-member.
I invite you to claim your abundance by playing this Golden Game, which will entail you adopting a ritual of abundance generating exercises, performed for just a few minutes each day. The game and exercises are intended to yield powerful results for you over a relatively short period of time, sometime within the next 88 days, so that you get excited, inspired and accustomed to playing in this way for the rest of your life!
If you are ready to attract more abundance into your life, you are ready to play the game and become a key master. I'm going to be sharing 50% of the monetary currency that flows into the game with all the players (or charity if preferred).
Get The Book
Become a key maker by learning the 8 keys to unlock infinite abundance.
Play The Game
Become a key master by playing the Golden Game to manifest more abundance.
"All of the abundance we see in the world is an extension of ourselves."
Stay Elevated
with Brandon's other offerings
Optimystic
is a late-night-style talk show featuring visionary artists & "musical medicine," special guests and fan co-creation. The release of Season 1 was delayed in part due to COVID but the
first four episodes are available
—the rest is scheduled to be released in 2021, with a vision towards a second season!
The Positive Head Podcast
was launched in 2015 and seeks to help listeners maintain an elevated vibration releasing five episodes a week, with over 1,300 episodes and 15 million downloads to date. It has been consistently rated among the Top Five "Spirituality" shows on iTunes/Apple Podcasts.